By the United Nations SGD Bookclub:
"Honorary pick of a book in an indigenous language for exploring SDG6" 2022
Gini Mere I Ji Akwo Aka Gi?
Why Do You Wash Your Hands? in Igbo and English.

Ịsa aka nke ọma nwere ike igbochi mgbasasi ọrịa. Ọ bụ ụzọ dị ire, dịrịkwa ọnụ ala ịkwado omume ịdị ocha.
Gini Mere I Ji Asa Aka Gi? bụ ụzọ di ụtọ ikuziri ụmụaka na ịsa aka di mkpa. N'ihi na akwụkwọ a nwere ihe osise mara mma, tinyere asụsụ dị mfe e jiri dee ya, ọ ga-amasi ụmụaka ịgụ ya ma nakọta ihe mmado so ya na ngwụcha akụkọ.
BUY NOW
* Available in ebook and print only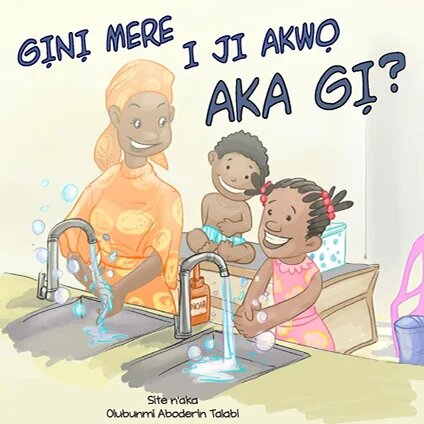 ---